Trump spoke warmly of Boris Johnson, the foreign secretary and Brexit leader who resigned, saying he had been very supportive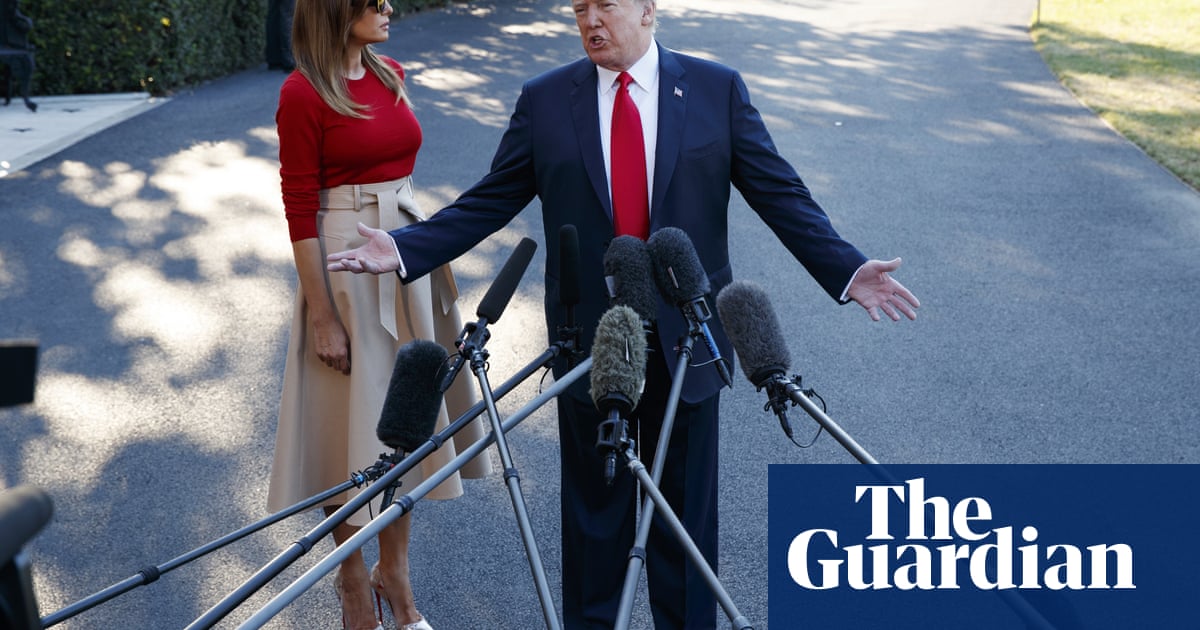 Donald Trump expects to see a country in turmoil when he lands in the UK on Thursday for a two-day visit he said would make his subsequent summit with Vladimir Putin in Helsinki seem easy.
The president spoke to reporters on the south lawn of the White House on Tuesday morning, before boarding Marine One to begin his trip to Europe, which will start with a Nato summit in Brussels.
He repeated familiar criticism of Nato and spoke warmly of Boris Johnson, the British foreign secretary and Brexit leader who resigned on Monday. Trump said Johnson had been very nice and very supportive.
A spokesman for Theresa May later said Trumps remarks had been positive.
Its going to be an interesting time in the UK and certainly an interesting time with Nato, Trump said, over the noise of the helicopter. Nato has not treated us fairly but I think well work something out. We pay far too much and they pay far too little. But we will work it out and all countries will be happy.
Johnson was the second Eurosceptic member of Mays cabinet to resign in recent days, after the Brexit secretary, David Davis. The UK, Trump said, was in a situation thats been going on for a long time.
So I have Nato, I have the UK which is in somewhat turmoil, and I have Putin. Frankly, Putin may be the easiest of them all. Who would think! Who would think. But the UK certainly has a lot of things going on.
Trump was asked if he had spoken to May since Johnsons resignation.
I have not, no, I have not, he said. Boris Johnsons a friend of mine, hes been very nice to me, very supportive and maybe Ill speak to him when I get over there. I like Boris Johnson, Ive always liked him.
The president was also asked if the prime minister should stay in power. That, Trump said, would be up to the people.
I get along with her very well, he said. Have a very nice relationship. Thats up to the people, not up to me.
UK police are mobilising in numbers not seen since widespread rioting in 2011, in order to meet planned anti-Trump protests.
Regarding Trumps praise for Johnson, Mays spokesman said it was positive for the UK that the former foreign secretary had a good relationship with the president.
Its important for the special relationship to have a strong relationship at [a] political level. I know [new foreign secretary] Jeremy Hunt is looking forward to forging his own relationships with his US counterparts.
Asked if it was embarrassing that the president considered the UK to be in turmoil, the spokesman said: The PM is looking forward to showing the president the UK and is confident he will leave with a very positive impression.
Of Trumps remark about the relative ease of his meeting with Putin, the spokesman said: I received that as being humorous.
Trump stoked domestic controversy, however, by refusing to say if he saw Putin as a friend or a foe.
All major US intelligence agencies agree that Russia meddled in the 2016 election with the aim of helping Trump defeat Hillary Clinton; special counsel Robert Mueller is investigating whether the Trump campaign colluded with such efforts. Trumps former national security adviser, Michael Flynn, was due in court on Tuesday as part of his plea deal with Mueller.
I really cant say right now, Trump said. As far as Im concerned, hes a competitor. I think that getting along with Russia, getting along with China, is a good thing.
Trump also said his secretary of state, Mike Pompeo, had not as reported given Kim Jong-un an Elton John CD containing the song Rocket Man Trumps nickname for the North Korea leader when they met in Pyongyang last week.
They didnt give it, Trump said. I have it for him. They didnt give it. But it will be given at a certain period. I actually do, I actually do have a little gift for him, but youll find out what that gift is when I give it.
Read more: https://www.theguardian.com/us-news/2018/jul/10/donald-trump-uk-visit-nato